"Beauty, Health and Wellness Tips | Stand Up for Your Feet!" is the beginning of a series geared mainly towards women. We have to take time to pamper ourselves.
Our many roles as mother, wife, homemaker, and career woman can keep us extremely busy. As a result, we tend to forget to spend enough time looking out for ourselves.
In contrast, there are a number of women who thrive by putting themselves first. And, that can be a healthy thing. Yet, some neglect other areas and people in their lives to accomplish this.
What I'm sharing here is the need to find the right balance. Stand up on your feet and for your feet. Also, enjoy the moment. It's time to breathe and relax for a change.
And, if you have been doing that already, keep up the good work or play!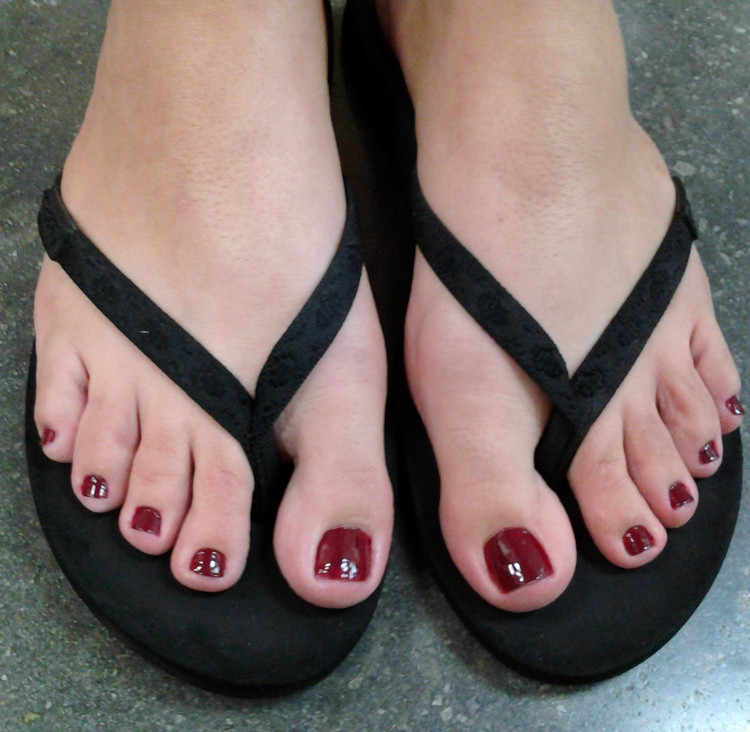 Stand Up for Your Feet. | They Serve You.
Whether or not you have two feet to stand on, you know how convenient it is to have them. And, in some cases, you may be standing on them for very long hours. Or maybe you walk or run long distances.
Your feet bear a lot of pressure from your daily activities. For example, dancers' feet endure quite a bit of strain. Their art is beautiful and entertaining to others. However, it comes with a price. And, their feet suffer the consequence.
In other words, they serve you. So, it's important to stand up for them in return. Give them the treatment they deserve.
This short poem sums it up. Your feet finally get to relax at the end of the pressure with a soothing pedicure.
Calloused
feet and tired
from standing still so long
or walking west to east, no rest
relaxed
Poems by ©Veron Lee Campbell
Pamper Your Feet. | Beauty Treatments.
What comes to mind when you think of pampering your feet? That could mean several things. For example, you may think of getting a regular or special spa pedicure.
You could also think about getting someone to rub them or give you a massage. Or, perhaps you just want to soak them in Epsom salt to soothe the pain and discomfort.
Your definition may be unique to you. But, it will entail some type of comfort and relief. This could be at-home treatment or professional care at a salon or spa.
Whatever you choose to do, just take the time to do it. Start somewhere and make a habit of it. Furthermore, even if you get it done professionally, it's always a good idea to have follow-up home care.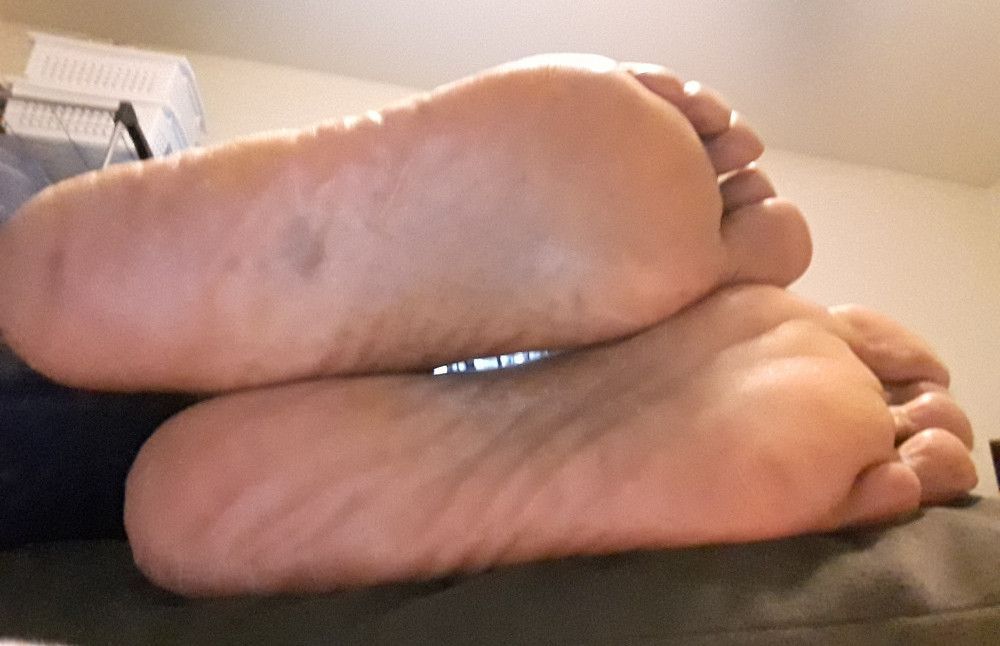 Pedicure Beauty Tips | Do It Yourself (DIY)
(As an Independent Avon Sales Representative I earn a commission on purchases.)
Here are some tips to guide you on your DIY pedicure adventure:
What You Will Need

First, a foot bath or basin with warm water
Use a large towel or mat to protection your floor from the water.
A toenail clip and file or emery board will be useful.
Work with a nail pusher or other cuticle tool if you're familiar with how to use them safely.
And, a foot file and brush will come in handy.
Foot soak and cream are beneficial for removing dirt and softening.
Finally, a hand towel can do a good foot job!
These are only the basics. You could find other essential items HERE. Shop with me for your Foot Works foot care.
Here are some basic steps:
Get all your items together before you begin.
Fill your basin or bath with warm water.
And, add foot soak. This could be a small amount of soap, Epsom salt, or another kind of soak.
You may want to clip and file your toenails before soaking them.
Next, soak your feet in warm water to your tolerance level for about 10 minutes.
Then, use your nail pusher or cuticle tool to clean around and underneath your toenails. Do not push hard on your cuticles as this isn't recommended.
Use the foot file to scrub the bottom of your feet. This will be an easier task after soaking them.
Afterwards, brush around your toenails and bottom of your feet. Use a wash cloth if you don't have a brush.
Dry them and apply cream or lotion. And, treat yourself to a massage.
Finally, tidy up and relax.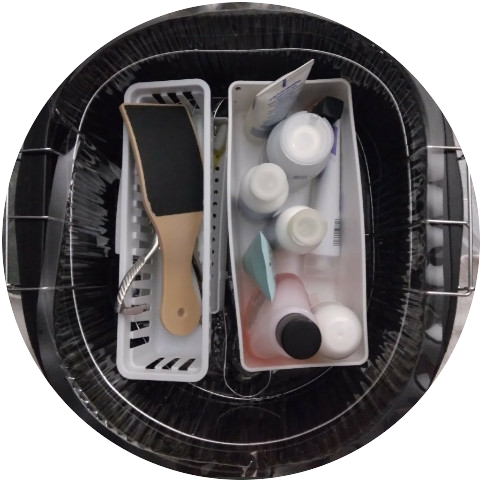 Salon and Spa Beauty Tips. | The Professional Way.
Now, I'll walk you through my professional spa pedicure.
First, soak feet in warm water with foot soak added to it.
Next, remove nail polish one foot at a time while the other continues to soak.
Then, clip and file toenails one foot at a time while the other continues to soak.
Apply cuticle cream.
Remove debris from underneath the nail and around cuticle. Use a cuticle stick or pusher and nipper. Unlike a manicure, no pressure is used to push back the cuticle.
Apply callus cream where necessary. Use a foot file to scrub the bottom and sides of feet. Avoid graters as the skin will grow back coarser despite the cleaner look initially.
Apply scrub to feet and legs up to just below knees.
Wash off scrub and dry feet and legs.
Apply mask to feet and legs. Leave on for about 5 minutes.
Rinse off mask and dry feet and legs. Do not return feet to the water.
Wrap both legs in warm hand towels. Leave on for 2-3 minutes.
Apply lotion to feet and legs.
Gently massage one foot and leg at a time. This is the real treat especially if certain massage techniques are used. This should last about 2 minutes each.
Further, apply cuticle oil around toenails and massage. Do the same toe on each foot at the same time.
Use toe separator between toes.
Remove oil from the nail bed with rubbing alcohol. The oil will prevent the polish from sticking to the nail. Be careful not to touch the nails with your hands after this.
Polish toenails with base, polish of your choice, and top coat.
Allow to dry thoroughly.
So, there you have a spa pedicure with a mask instead of paraffin treatment.
Your Feet | Show Them You Care.
You can choose to do your own feet or get them done professionally at a salon or spa. But, whatever you do show them you care. After all, you will be the beneficiary.
No one expects you to be an expert. And, your feet certainly don't. Therefore, just make a commitment to yourself to get started. Moreover, you may become an expert in the process.
On a professional note, all salon and spa pedicure services are not created equally. However, they are beneficial and worth it if you can afford to go.
These establishments may specialize in customizing their services. In addition, they use different names to refer to the same services as other businesses.
For example, one salon may call their basic pedicure classic. On the other hand, another salon may call theirs standard. It's all in the name. But, that doesn't mean the steps will be done exactly the same way.
There are always variations. In other words, one technician will soak the feet first. In contrast, another will take off the polish and trim the nails first.
Furthermore, they are not always expensive. So, consider how much it is worth to you? Now, the next steps are up to you.
I hope you find "Beauty, Health and Wellness Tips | Stand Up for Your Feet!" useful. Please check back for more tips on subjects that may appeal to you. And, share this website with family, friends, and associates.
(Remember, as an Avon Independent Sales Representative I earn a commission on purchases.) Please CLICK HERE to see some products you could use for your foot care at home. I would appreciate your support.
If you have any questions or comments, please feel free to leave them below. I will be more than happy to serve you.