Creative Arts and Crafts Projects are a lot of fun, especially with the correct tools and equipment. Take, for example, a space-saving adjustable cutting table.
Just think about the numerous projects you could create using a table with the features and benefits listed below. And it's for novices and professionals alike.
More importantly, it doesn't require an entire room for you to work. So, whatever category you find yourself in, it will work for you.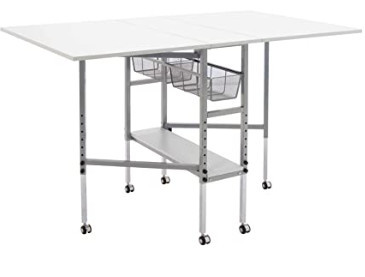 (As an Amazon Associate, I earn on qualifying purchases.)
Overall Features | General Details
Name: Hobby and Craft Cutting Table
Sold By: Amazon
Brand: Sew Ready
Model Name: Studio Designs
Price: $188.96 (This price is subject to change.)
Color: Silver/White
Furniture Finish: Powder coated
Overall Dimensions: 58.75″W x 36″D x 30.25″ – 39.25″H
Center Panel: 10.75″W x 36″D
Folding Panels: 24″W x 36″D
Special Feature: Adjustable Height, Storage, Foldable
Number of Drawers: 2 Baskets
Overall Rank: 9.4 out of 10
Check out these features:
The overall dimensions are 58.75″W x 36″D x 30.25″ – 39.25″H.
And the height is adjustable in 1.5″ increments.
There are two slide-out wire mesh drawers.
It includes a sturdy bottom shelf.
Also six casters for mobility.
It's weight limits are: center and bottom panels, 50 lbs each; side panels, 25 lbs each, baskets, 15 lbs each.
Finally, the frame is powder coated.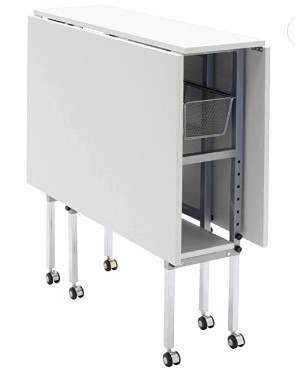 You May Like These Benefits:
The overall dimensions give you a reasonable size area to create stunning projects.
Eight knobs allow you to adjust the height between 30.25″ – 39″ for your comfort. You no longer have to strain your back while you work or play!
And you have easy access to things close by with two slide-out wire mesh drawers within reach.
Also, a bottom shelf provides even more space.
Six casters provide the mobility to move your table easily or lock it in place.
You can also take on a wide range of products with the confidence that weight isn't a problem.
Finally, you can enjoy the durability of the powder coated frame.
Why Would You Buy This? | Enjoy Your Crafts Projects
You may be a seasoned crafter, fashion designer, or artist, and need a functional table in your creative space to enjoy your projects.
Furthermore, if you have limited work space, you need something you can put away when it's not in use. For that reason, this table will be a good fit for you.
It takes one creative enthusiast to recognize the needs of another, although we have diverse areas of interest. On the other hand, we have several things in common.
For example, all the aforementioned hobbyists or professionals require a spacious table to work on creative arts and crafts projects.
Take it from me as this is my third cutting table. The first one I had many years ago was a sheet of ply board I covered with 1/4″ sponge and calico fabric.
I placed it on top of two barrels of similar height until my brother, who is a welder, made a customized table for me. As a result, I felt more of a professional.
Unfortunately, I couldn't take this with me when migrating to the USA. Subsequently, I purchased a similar folding craft table from a fabric store to continue working on my beloved projects.
Once again, I was out of a craft table as I donated it to Goodwill due to unforeseen circumstances. Life can sometimes be like a roller coaster. But I'm determined to do what I love.
Finally, number three came into my life recently as I got ready to embark, once again, on my projects. These include interior decorating, fashion design, fabric-covered baskets, and paper projects.
I'm delighted that this table is sturdier, and the baskets and bottom shelf are a bonus.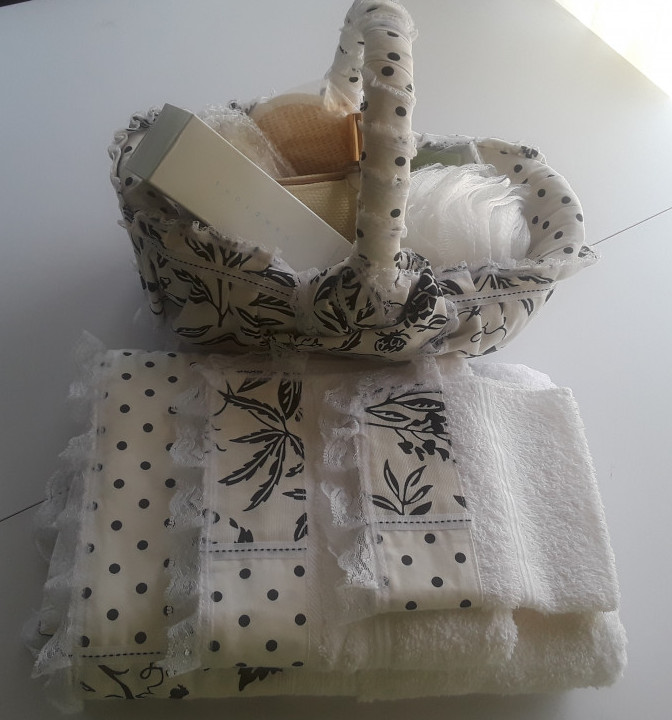 What Others Are Saying | Arts and Crafts Table
The Hobby and Craft Cutting Table gets a 4.7 out of 5 rating on Amazon by other purchases. Here's a summary of some their comments:
Pros:
This table is large enough for all projects.
And it's sturdy to accommodate heavy objects
Also, it's made of durable material.
In addition, it folds away for easy storage without cluttering up a small space.
Some customers said it was easy to assemble with clear instructions.
And, although it requires two people to flip it over, one person may be able to manage.
Cons:
Some parts didn't line up properly.
Also, one side of the folded down panel didn't fit onto the peg.
And the table has to be turned upside down to adjust the height after assembling.
The instructions clearly stated not to tighten the screws initially. In fact, this could cause the parts and holes to be misaligned. That may also be the case with one side panel not fitting properly onto the peg.
Creative Crafts | Hobby and Craft Cutting Table
Many of us like the convenience of equipment which offers functionality, flexibility, and durability. As a result, we look out for items with these features. It also follows that the benefits tend to pay off.
The hobby and craft cutting table featured here seems to live up to these expectations. Therefore, it gets more pros than cons from purchasers in their reviews.
And although not everyone takes pleasure in assembling furniture, most people thought it was easy enough to do. For this reason, some did it all by themselves except to get help to flip it over.
And it's definitely best to have two people to flip it, but I managed to do this on my own. I would recommend that you get help, if possible, instead of trying to play the hero. You may hurt yourself or damage the table.
If you think this table is right for you, please CLICK HERE for more details and to make your purchase.
(As an Amazon Associate, I earn on qualifying purchase.)
Also, please feel free to leave your questions and comments below. I will be more than happy to address them.