The Oberly Personal Travel Blender could be your new travel partner on the road or in the air. You can conveniently charge it at any USB port wherever you are.
Life isn't all about hustle and bustle. You can take it at a slow pace and have the convenience you desire just for fun. Imagine having your protein shake within easy reach instead of having to wait until you get to a restaurant.
This gives you full control over the ingredients you add, perfecting it to your heart's desire. You could even take additional ingredients with you to enjoy another one of your favorites while you're out running errands.
Don't miss another liquid meal or snack just because you're caught up with other important things to do. Take your travel blender, charger, fresh or frozen ingredients with you.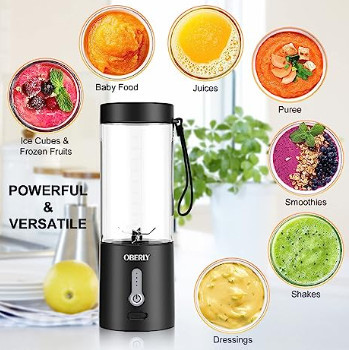 (As an Amazon Associate, I earn on qualifying purchases.)
Overall Features | The Basics
Name: Oberly Personal Travel Blender
Sold By: Amazon
Brand: Oberly
Price: $25:49 (This price is subject to change.)
Color: Upgraded 2022 Black (There are more colors to choose from.)
Capacity: 18 oz
Material: PCTG Food Grade (BPA free)
Overall Rank: 7.8 out of 10
Here are some details:
Output Power: 175 Watt
Build-in 4000 mAh USB rechargeable battery with indicator
Food-grade stainless steel 6-points blades
It has an 18 oz mini travel cup with measurement markings.
Waterproof design
Your blender is chargeable on the go.
It's easy to clean.
In addition, it's designed with anti-slip protection.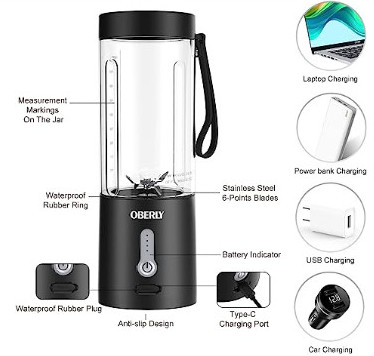 Now for the Benefits:
Its powerful 175W motor enables it to crush ice and frozen fruits. Make sure to cut in small pieces first to protect you blender.
Enjoy 20-25 cups of juice from your fully charged battery. The indicator lets you know when it's fully charged.
The stainless steel 6-points blades enhances its crushing ability to give you a smooth drink.
An 18 oz jar is enough for a single rich and nutritious smoothie. You can reduce or increase the portion using the measurement as a guideline right on the jar.
Your blender is waterproof to prevent water from damaging the motor. Just remember not to immerse it in water. Also, close the rubber plug over the charging port before washing.
Charge it up wherever you are. It's easy to find a USB charger at your disposal. Think about your power bank, laptop, and car charger.
How much easier can cleaning get? Put in a little soap and water, press the start button twice to auto clean.
Also, the anti-slip design at the base keeps it from falling over and making a spill.
Why Would You Buy This? | Make Your Life Easier
Why would anyone need another blender? Chances are you already have a blender or more because of the convenience each one offers. Why would you add this portable travel blender to your collection?
You can answer that for yourself. For me, it's like having people around you who have different personalities. For example, Mary likes to hang out with you for lunch but doesn't like to go swimming.
On the contrary, you love the ocean and the company of someone to join you for a leisurely or rejuvenating swim. That's where Sarah comes in.
Unlike Mary, Sarah grew up on the islands just like you. She relishes every opportunity to bask in the warmth of the sunshine while enjoying the water.
In the same way, a portable travel blender goes with you so you can enjoy the pleasures you share with your stay-at-home blender. You love them both and wouldn't think of trading either one of them.
On the other hand, you could consider giving these as gifts to your family, friends, and associates for special occasions or just because.
More Reasons to Love it | My Viewpoint
The USB charging capability adds to the charm of this lightweight and effective gadget. Just imagine if you had to carry around a bigger blender with the base. It could be frustrating!
I keep my original Nutribullet Blender at work. I'm reluctant to use it at times because it is very loud and there are other people around. In comparison, it's lighter than my Nutribullet Blender Combo, which I keep at home.
It's easier and much more convenient to use my new travel blender without disturbing the peace. This is much quieter and easier to clean, making it less time consuming.
In light of that, I give it an 8 out of 10 only because I haven't experimented with it enough.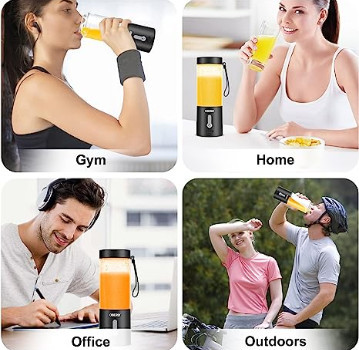 What Others Are Saying | Travel Blender Reviews
The Oberly Personal Travel Blender gets a 3.9 out of 5 rating on Amazon by other purchasers. Here's a summary of some comments:
Pros:
This blender works well and is perfect for smoothies.
It blends frozen and fruits well when you follow the instructions to add water first.
Also, the battery lasts for a long time.
It's easy to travel with and can be packed in your carry-on luggage for air travel.
Cons:
It doesn't blend frozen fruits and ice as well as expected.
The jar should come with an additional lid.
Some purchasers say the motor isn't as powerful as they expected.
Others say it doesn't hold the charge well.
It's always a good idea to read instructions before operating any product. It could help to prevent mistakes, misuse, or misrepresentation of the item.
A purchaser mentioned getting additional items in the package and didn't know what they were. I was just as confused initially.
Subsequently I figured it out. The blue silicone or rubber rectangular object is an ice tray.
The two-piece plastic item with sponge attached is for cleaning the jar. All you have to do is snap the two pieces together.
Conclusion | Oberly Personal Travel Blender
Travel with it anywhere and everywhere. It doesn't matter whether you're in a hurry or just love the convenience of making your own smoothie or shake wherever you are.
If you're like me, you will have one at home, one at work, and one to take on the road or to accompany you out of town.
Additionally, it saves you time and money by cutting down on the number of trips it takes and the cost to spend at a restaurant.
Another benefit is you can pick up the items you need and make your shake or smoothie before you get home. How cool is that!
It does more than making smoothies and shakes. You can also use it for your baby foods, salad dressings, and to make lighter juices such as lemonade and drink mix for hydration.
Regardless of what you use it for, it only takes clicking on a single button twice to get it started.
Remember also, it makes an ideal and inexpensive gift item for someone who would appreciate its convenience.
There isn't much more to say. The features and benefits are laid out above. Please CLICK HERE for more details and to make your purchase.
(As an Amazon Associate, I earn on qualifying purchases.)
Please feel free to leave your questions and comments below. I will be more than happy to address them.